It started as a small sore the size of a pen dot. It kept going away and then coming back in the same spot. I thought it was a weird pimple. Everyone told me it was nothing. After a year of this I finally saw my family Doc who sent me to a skin specialist.
The specialist took one look, took a piece for a biopsy and sent it off. Sure enough skin cancer. I was then sent to the skin cancer clinic to have it removed by a technique called MOHS surgery. This is usually done on parts of the body like the face that you want as little disfigurement as possible.
A plastic surgeon takes a small piece of the cancer out and looks under a microscope, when they get to healthy skin they stop. I figured mine would be a small amount as the sore was so tiny. Not so, the skin around the sore was shiny and waxy looking which was all cancerous. The surgeon kept cutting, and cutting. He was starting to get upset as he was telling me he didn't think it had become this deep. After 7hrs it was done. I was left with a large hole on the right side of my nose. It was upsetting, but, it could have been worse.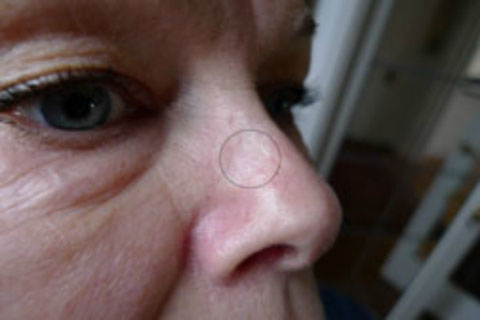 I now had two choices for plastic surgery. I had a very small nose so didn't have enough skin to create a flap to bring over to cover the hole. Soooo!
Choice 1: Cut into my forehead on either side into my eyebrows pulling down skin to cover the hole which when healed would likely pull up the tip of my nose into a pig nose with scars running into my forehead. Hmmmmm!
Choice 2: Cut a round patch of skin from behind my ear and do a skin graft. Complications would be scarring and/or rejection of the graft.
It wasn't rocket science I choose #2. The plastic surgeon was happy with my choice as he commented that in his private practice people come in for rhino-plasty and ask for my nose size and shape.
The graft took, phewf, now I had another problem. I had already had a trip booked a year in advance to Hawaii and had to keep my nose covered. I looked everywhere for something to put on my sunglasses and found nothing. Finally, at a sport store in a dusty drawer they had a nose cover made out of vinyl they use on car roofs. It was hard, hot and really uncomfortable, but, it did the trick.
When I got home I started researching different fabrics that blocked out the sun and were soft and fun. Neoprene blocks the sun 100% and comes in many different colours and patterns. It is soft and comfy. Plus machine washable.
The SHNOZZEE was created.
PS.  My advice to everyone now is if you notice something unusual on your skin  RUN don't walk to your Doctor. If I had gone when I first noticed this it wouldn't have been as deep and large.